This plugin hasn't been tested with the latest 3 major releases of WordPress. It may no longer be maintained or supported and may have compatibility issues when used with more recent versions of WordPress.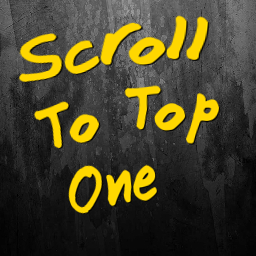 Scroll To Top One
Description
Built with : http://admin-builder.com
Add a custom/dinamic scroll to top button to your site, configure background style (round or rounded, configure color and upload your own icon for the up graphic)
Features:
Set background color using color picker
Set icon size
Set background Style (round or rounded)
Upload custom icon image
Arbitrary section
The plugin does not need any extra method of configuration/installation or any other information
A brief Markdown Example
What can you generate social icons for all your posts, at the bottom of the posts in a chosen alignment (left, right and center)
Unlimited meta boxes
Unlimited Field types
Easy sorting of metaboxes or fields
Configurable fields with options
Installation
This section describes how to install the plugin and get it working.
Upload the plugin files to the /wp-content/plugins/scroll-to-top-one directory, or install the plugin through the WordPress plugins screen directly.
Activate the plugin through the 'Plugins' screen in WordPress
Use the Signature One page screen to configure the plugin (import the data generated by the service. More info in that page)
FAQ
How do I use the plugin?

After installation, go to The Scroll to top One page in the bottom left of your admin panel and configure what shows in your posts:
* Button style
* Size
* Padding
* background color
* Upload your own image for the up graphic
Reviews
There are no reviews for this plugin.
Contributors & Developers
"Scroll To Top One" is open source software. The following people have contributed to this plugin.
Contributors
Changelog
1.0
First Version of the plugin